The Patented One-of-a-Kind MaxJax® Portable Car Lift
Safety Features from the Ground Up
No one in the industry has a more sophisticated and comprehensive research and quality control program than MaxJax, and our thousands of customers worldwide prove it.
Low-pressure HVLP Direct-Drive cylinders eliminate the need for lifting chains or screw mechanisms most commonly found on other lift designs.
Hydraulic cylinders feature integrated velocity-fuse safety valves.
A cast iron gear flow divider provides precisely equalized lifting for uniform division of hydraulic power.
Rugged safety lock bars are capable of holding three-times the rated lifting capacity.
Arm restraints automatically engage each time the lift is raised.
Detailed installation, maintenance and safety instructions accompany each MaxJax car lift.
MaxJax encourages all owners to know their equipment and to follow good safety practices when using any of our products. Your MaxJax car lift equipment has been designed and built with your safety in mind, but the ultimate responsibility for safe operation is with you, the operator.
MaxJax is protected by one or more patents or claims of patents in the U.S. and elsewhere. This is provided to satisfy the virtual patent marking provisions of various jurisdictions, including the virtual patent marking provisions of the America Invents Act, as codified in 35 U.S.C. § 287(a).
A Height Overall 89.5″ (2,273 mm)
B Height of Column 64″ (1,626 mm)
C Min. Pad Height 4.5″ (114 mm)
D Max Lift Height (Pad Only) 47.5″ (1,207 mm)
E Max Lift Height (With 3″ Adapter) 50.5″ (1,283 mm)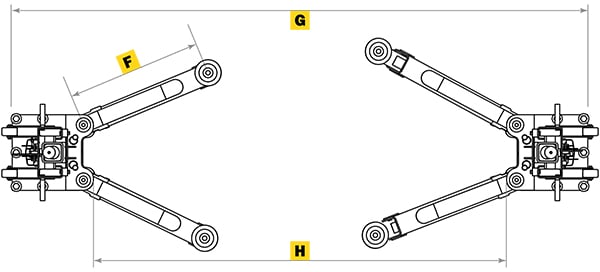 F Arm Reach (Min – Max) 26″ – 40″ (660 mm – 1,016 mm)
G Typical Width (Outside of Base Plate) 105″ – 135″ (2,667 mm – 3,429 mm)
H Drive-thru clearance 74″ – 104″ (1,880 mm – 2,642 mm)
Locking Positions 7 (every 3″)
Motor 110-220 VAC / 50-60 Hz. / 1 Ph. (C-16 Breaker)
Time of full Rise 1min 45-seconds
Individual Column Weight 300 lbs. (136 kg)
Shipping Weight (Standard Model) 960 lbs. (435 kg)